Masterpack is the leading expert in innovative packaging solutions. With our unique and fully integrated solution to create Modified- or Controlled Atmosphere in FIBCs, we provide increased protection and extended shelf life of your products, decreasing waste and loss of product and improving the quality of your products. Learn more about Masterpack and our solutions here, or get in touch for more information.


Are you new to Modified Atmosphere?
The benefits of modified atmosphere go beyond the supermarket shelves and consumers' kitchens. Food waste is a huge sustainability challenge, and innovative packaging methods have an increasingly bigger potential to tackle this challenge. Learn more about how Modified Atmosphere works in this short video, or download our whitepaper on MAP in FIBCs here.
Modified Atmosphere Packaging: a short summary
The technique of Modified Atmosphere Packaging differs from vacuum packaging in that it doesn't necessarily remove oxygen from the packaging. A modified atmosphere is created by adjusting oxygen and CO2 levels within the packaging to the desired value. This means it is possible to compose a tailor-made atmosphere to maximize shelf life for specific products. Modified Atmosphere packages are also hermetically sealed, preventing the modified atmosphere from changing.
This technique is used to maximize shelf life since it prevents pest development, inhibits the growth of microorganisms and protects against oxidation processes. It also keeps dry products safe from unwanted moisture development.
Modified Atmosphere covers multiple aspects of packaging benefits. Not only does it keep your product protected from external influences and pests — but it also lengthens the shelf life, and contributes to a more sustainable supply chain. Other benefits include:
It is suitable for many products
Modified Atmosphere is not harmful to the environment (or consumers)
No chemicals used: MAP is also applicable to organic food
MAP sustains and enhances the quality of the product
With these characteristics, MAP has changed the food industry forever. Discover what it can do for your product and business by getting in touch with our experts.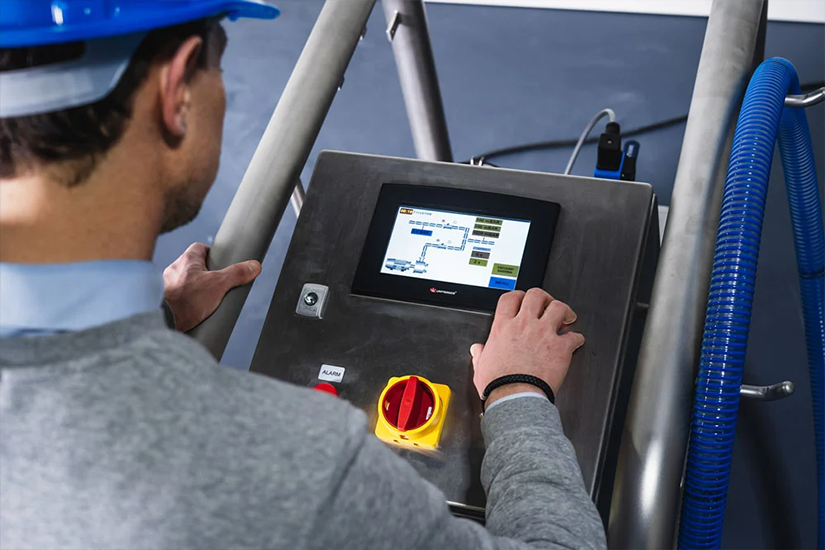 Vacuum packaging VS Modified Atmosphere
Modified Atmosphere Packaging is not to be confused with vacuum packaging. Both vacuum packaging and Modified Atmosphere packaging can extend shelf life for your product and preserve its freshness. Although both techniques reduce the oxygen concentration inside the packaging, they both have their pros and cons, depending on the product. With vacuum packing, most of the air is removed from the packaging, after which it is hermetically sealed to maintain the vacuum. This technique protects the contents from oxidation, as well as slowing down the oxidation process. It prevents the buildup of moisture and inhibits the growth of oxygen-dependent microorganisms and reproduction of insects.


Pro's and cons
Modified Atmosphere Packaging (MAP) is the more versatile of the two techniques. Where vacuum packaging has a limited range of options, MAP can be totally adjusted to the particular products. The chosen technique also influences the presentation of the product. Curious which technique suits your situation best? Read more about it in this blog.


2. Modified Atmosphere Technology
We are working continuously on improving and developing new and better techniques. Innovation is one of our key values. Read more about the technologies we use and how we smoothly implement these into your supply chain.


Cleanroom Production
With Modified Atmosphere, we can thoroughly control the environment within the packaging. But it starts with what's outside of it. To optimally protect your product from any form of contamination, our bulk packaging is produced in Class 100.000 or 10.000 Cleanrooms, excluding as many risks of contamination as possible. Cleanrooms are controlled environments with a low level of pollutants such as dust, airborne microbes, chemical vapors, and aerosol particles.


Sensor Spot
The next challenge in Modified Atmosphere Packaging, is the monitoring of the gasses within the packaging. Until recently this was impossible to do without opening or damaging the integrity of the packaging film. But now, there is the Sensor Spot technology, which enables us to measure the oxygen content inside the package repeatedly, without opening or damaging the packaging film. This technique, using a fluorescence signal, is non-invasive and allows us to monitor the oxygen level throughout the whole supply chain. Discover more about this technique in this blog.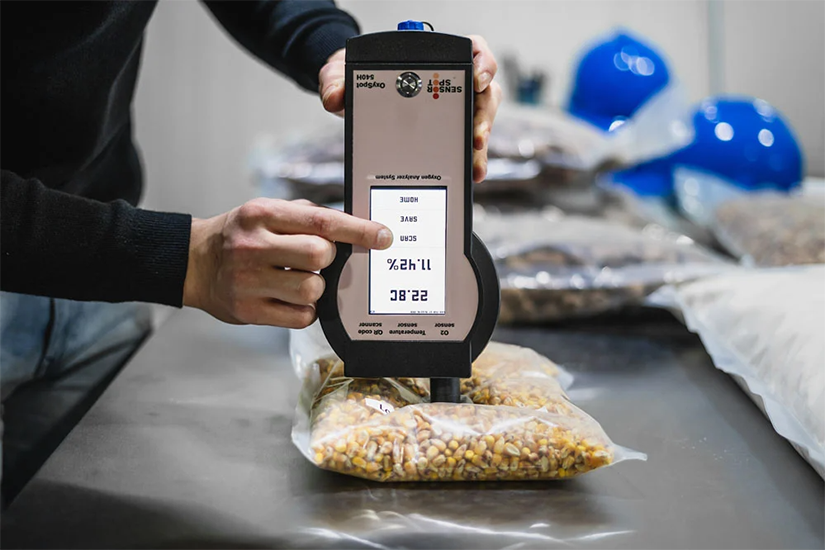 Research&Development Center at Masterpack HQ
Implementing our techniques into your production seems challenging and disruptive. That's why we opened a new R&D center at our headquarters, where we are able to fit solutions to our clients' needs, without interrupting their own production processes. The R&D center provides all the facilities your technician and team need to explore the possibilities of Masterpack. All without taking up space and time in your own production facilities, enabling you to test on a smaller scale, for bigger and better end results. Are you interested in applying one of our techniques to your business? We'll work toward a tailor-made solution: contact us for more information.

3. Pest and Contamination Prevention
Storing food in bulk creates perfect breeding conditions for all kinds of insects. Pests often start small and can be hard to detect in the early stages - but the consequences are enormous. A single insect in every kilogram of the food product means that a lorry load can carry thousands of pests. Stored product insects (SPIs) cause the greatest financial losses to food processing businesses of all pests.
'The average cost of a recall to a food company is 10 million dollars in direct costs''
Pests
The consequences for your product are disastrous: loss of product or physical damage to the product and degrading the quality. But apart from this, SPI's can also contaminate products with insect body parts, feces, bacteria, and much more unwanted attributes.


Contamination
As for contamination, there are also many risks that should be taken into account. Not only physical but also chemical and microbiological contamination endanger your products and therefore consumer health and business. Luckily, Modified Atmosphere is here to help.


Modified Atmosphere Packaging for a safe supply chain
Prevention and control are key, and it can be done through packaging techniques. Modified Atmosphere offers a chemical-free way of pest control with some positive side effects.
All insects have specific mortality rates under specific circumstances. By adjusting the atmosphere within the packaging, the required oxygen or CO2 levels can be adapted, eliminating their survival chances and even inhibiting the growth of them in the first place. Since there is no use of chemical products whatsoever, this technique can also be applied to organic food products.
Did you know?
It takes only a hole the size of half the diameter of a human hair to allow oxygen to enter the package. From this, it takes just 70 hours for oxygen levels to rise from 0.1% to 10% - which means a long weekend can have far-reaching consequences. Read more about how we manage leak prevention here.
For a more in-depth explanation on how MAP tackles pests and more, read on. Masterpack is your best partner against pests. Discover it in our blog, or contact our team of experts immediately for a quotation.
Download our complete whitepaper on pest prevention here.
4. Shelf Life Extension
Especially for the food industry, Modified Atmosphere in FIBCs has proven its value in the supply chain. Not only does it protect food, preventing unnecessary waste, it goes beyond that: Modified Atmosphere can extend the shelf life of your products.
Varying temperatures and relative humidities have a negative impact on the shelf life of fresh products. Thanks to the Modified Atmosphere technique, the influence of these factors can be minimized.
Bacteria, such as mold and mildew, rely on oxygen to grow. Modified Atmosphere removes oxygen, thus removing their chances of growth and survival. In the next step, the package is filled with nitrogen, filling up every pocket of space within the package. This prevents moisture from getting in, keeping your products dry and protected.
Modified Atmosphere can be used for:
Dried foods, such as nuts, rice, corn, grain, beans, herbs
(Dairy) Powders: as well as coffee and cacao powders
Seeds
Dried specialties and refined products
This technique doesn't compromise the flavor, color or smell of food products, and is suitable for organic products as well. Find out all the benefits and create your own tailor-made MAP solution with Masterpack. Get in touch today.

5. Bulk Packaging
We like to think big. That's why we developed a technique to apply Modified Atmosphere to Big Bags, also knows as FIBCs and bulk bags.
The Flexible Intermediate Bulk Container was introduced in the 1940s and their popularity has been growing ever since. The use of big bags has spread to many other industries like food, pharma, and chemical industries, due to the development of the packaging, and their big benefits:
Read more about their benefits in our dedicated blog.


6. ABOUT Masterpack Group
An innovative company that has been around for over a century: Masterpack has been around for longer than you might expect. It was founded in the early twenties of the last century by the de Winter family. It started as Winza Products BV, a packaging company in Enschede, The Netherlands, which traded in jute sacks in the Dutch home market. Over time, the jute has been replaced by synthetic woven materials that were mainly sourced outside of Europe, e.g. in Asia, adapting to changing needs and technologies in the market.
Now, under the fifth generation of the founding family de Winter, the company has not only expanded internationally but has also developed and grown to serve more markets. We have proudly evolved from a good old-fashioned trading company to a leading, innovative, global player in the field of packaging solutions. With a great network of partner suppliers and customers all over the world, Masterpack is part of something big - with all the benefits for its clients.


A good packaging solution is more than just the package. To optimally protect the product inside, there are many factors to consider. Here at Masterpack, the process of packaging your products is designed to achieve the best results for your product. That's why we deliver a one-stop-shop solution, consisting of:
High-quality FIBCs
Modified Atmosphere technology
Cleanroom production
On-site research and development center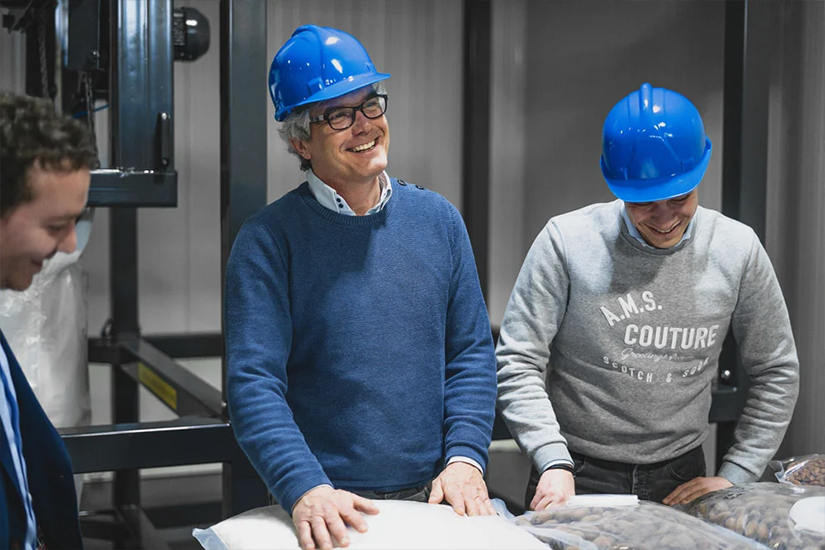 Why choose Masterpack?
Choosing a FIBC supplier is about more than just packaging. With Masterpack, you're ensured of a fully integrated solution for your supply chain. Some of our strengths:
We are better for your product
With Modified Atmosphere, we protect and even improve your products, without adding pesticides or harmful products.
We are better for the environment
We are working towards less waste - not only in terms of food but also when it comes to packaging materials.
From certifications to Cleanrooms: we've got it covered
The safety and quality of your products is our main concern. That's why we work in state-of-the-art clean rooms with the corresponding certification: Class 10,000 for liner production and Class 100,000 FIBC confection.
We are experienced
From Thailand, China, Bangladesh and The Netherlands, clients worldwide have experienced firsthand the strengths of Masterpack as a partner in packaging.
We will be even better tomorrow
With our in-house development and our new research and development center, we are developing even better solutions to fit your needs.
Not convinced just yet? Read our full blog on 5 reasons to work with us!